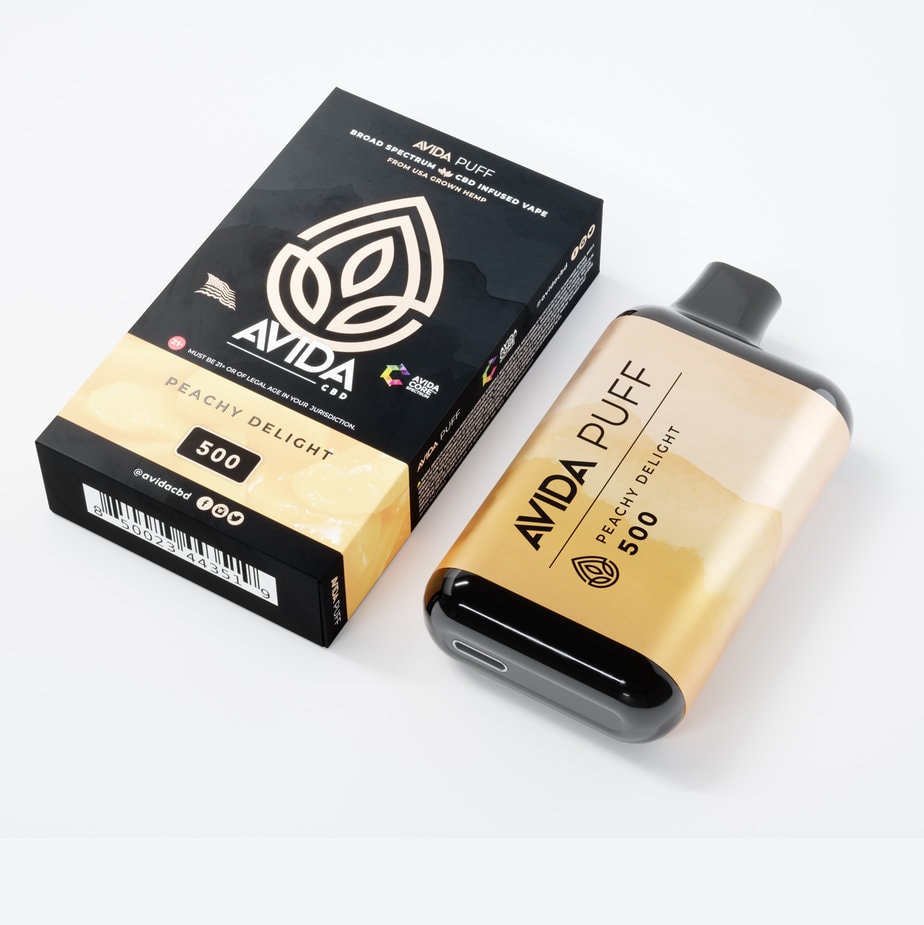 Peach Delight- CBD Vape Pen
Peach Delight- CBD Vape Pen
$29.99
$29.99
Features:
It tastes like a refreshing taste of fuji apples, strawberries and nectarines.
Made from Broad Spectrum Hemp-Derived Cannabidiol (CBD) in 100mg, 300mg and 500mg.
Artisanally crafted by an award-winning flavorist.
Authentic proprietary Avida CBD Disposable Device.
3rd party tested by ISO/IEC accredited laboratory in California for safety, purity, and consistency.
This product may contain trace amounts of THC.
---
Description
Additional information
Lab Results
Suggested Use
Warning
Description
Get ready to indulge in the sweet, fruity goodness of Peachy Delight, with its delicious flavor and calming effects.
It makes it the ultimate treat for a relaxing evening.
Whether you're looking to unwind after a long day or simply find a little peace and tranquility in the midst of a busy schedule, Avida CBD is the perfect way to relax and recharge your mind and body.
Prepare to be transported to a state of sweet, fruity relaxation!
Couple that with a dose of fast-acting Avida Core Broad Spectrum CBD, and this vape will leave you feeling relaxed and satisfied.
Our new 500mg formulation is available in our new pen design that is reconstructed from the ground up—featuring a leakproof top to bottom airflow design that utilizes fluffier cotton with a refined organic blend for better absorption and flavor.
It wouldn't be the ultimate pen if we didn't give you more juice and more power. Our new pen houses a 8ml tank and is coupled with a 650mah rechargeable battery so you can enjoy dosing your CBD no matter where your daily travels take you.
Shop Peachy Delight Avida Puff now.
Ingredients:
Avida Core Broad Spectrum CBD  (Hemp Derived), Food Grade Vegetable Glycerin, Food Grade Propylene Glycol, Natural & Artificial Flavorings.
Try our other Avida CBD Puff vape pen flavors:

PRODUCT SPECIFICATIONS:
---
500 mg
Pre-Filled: 8ml CBD Vape Juice
Approximate Puffs: 3200
Internal Battery: 650mAh
Rechargeable: Yes
(Charging cable sold separately)
Pre Charged: Yes
Made With: Avida Core Broad Spectrum CBD
Additional information
| | |
| --- | --- |
| Weight | 1.1 oz |
| Dimensions | 4.77 × 2.02 × .46 in |

Tested by: SC Labs
Product: Puff Fuji Oasis 500
Batch: PFO500230614
With decades of combined industry experience, deep roots in the cannabis movement, and the largest scientific staff assembled in any cannabis testing lab, SC Labs is committed to building a better and safer cannabis future for everyone.
SEE SAMPLE BELOW
Suggested Use:
Vape just as you would vape you favorite Juul pod or vape pen.
---
Concentration Per CBD Vape Pen
500mg of CBD in 8ml disposable pen
Keep out of reach of children.
Not intended for use by persons under the age of 21.
Do not use if pregnant or lactating.
Do not use this product if you are subjected to drug testing.
If you have or suspect a medical condition, are taking medications, please consult your healthcare physician.